Home>>Computer Disks & Accessories>>Disk Holders - Paper
Computer Disks & Accessories: Disk Holders - Paper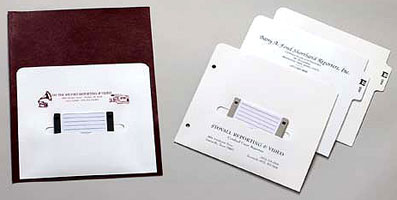 Our professional looking white, embossed disk holders create less static than plastic, are durable, and hold up to two 3-1/2" disks or 2 CDs. Available in 3 styles: Tabbed Peel & Stick, Peel & Stick, and Bind-In.
No more lost disks and no more phone calls from your clients looking for the disk. As an added bonus, with every pack you receive preprinted Disk Enclosed labels to place on the front of your transcript cover.
Price per pack of 25.