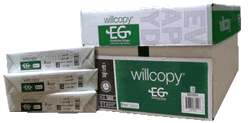 Take advantage of Pengad's Smart Saver Prices when you purchase 10 or more cases of paper.
Mix and match a total of 10 or more cases and delivery charges within the contiguous United States and D.C. are included in the price*!
Engineered for function and versatility in all laser and inkjet printers, copiers, and plain paper fax machines.
Manufactured by Domtar, Willcopy® multi-purpose paper provides you with the highest quality and maximum performance. Every ream of Willcopy is clean, acid-free, dust-free, and cut perfectly to guarantee problem-free feeding and copying. Willcopy offers excellent print quality for text, graphics and color and features low static and low moisture content.
Available punched 3 standard holes on the side and unpunched at the same low price.
Size: 8-1/2 X 11 inches, 20 lb. paper, 10 reams per case, 500 sheets per ream. 92 Brightness. Each ream is individually packed. Price per case.
It's the best value for smart savings!
*Smart Saver Copy Paper Program may not be combined with any other discounts, sale prices, coupons or special offers.
Important Note: You must order 10 or more cases.