Home>>Books, Journals & Diaries>>Reporter's Journal
Books, Journals & Diaries: Reporter's Journal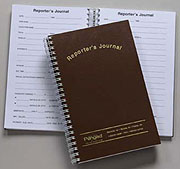 The Reporter's Journal is designed specifically for the individual reporter. 75 pages - enough to record 150 job entries. Spiral bound with high quality leatherette cover that lies flat for photocopying. Size: 5 X 8. Price per book.

Entries include:
Case & Client/Firm Name
Location & Attorney information
Witness and Estimated Time/Actual Time
Transcript & Copy information
Billing entries
...and much more!
Sku
Description
Qty
Price
Buy