Home>>Envelopes & Mailers>>Bubble Mailers
Envelopes & Mailers: Bubble Mailers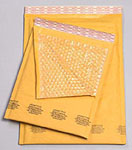 Pengad's Bubble Mailers have an easy to use peel & stick seal. Fully laminated bubble wrap construction provides stiffness, puncture resistance, and durability. Lightweight bubble cushioning reduces postage costs.
Minimum order 20 mailers. Prices are per each mailer.
Pengad carries many different sizes and styles of envelopes. If you don't see what you need, call 1-800-631-6989 and speak to Pengad's Sales Staff for a no obligation price quote.