Home>>Transcript Covers>>Window Front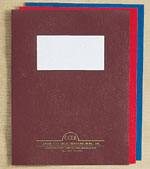 These two-piece letter-size window front covers have inverted flaps to conceal the fasteners.

Available without fasteners or with convenient, self-contained fasteners.

Window front and solid back.

Available in 2 hole top binding or 3 hole side binding.

This cover is custom made and may not be returned.


---