Home>>Books, Journals & Diaries>>Reporter's Assignment Book
Books, Journals & Diaries: Reporter's Assignment Book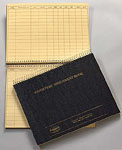 The Reporters Assignment Book is made of wide ruled (9/16 inch) heavy ledger stock and contains 150 pages. All data for each job fits on one page, 16 entries per page. Spiral bound that lies flat for photocopying with high quality heavyweight black pressboard cover. Includes handy telephone index page.
Column entries include: Time & Date Taken, Name & Location of Case, Client, Referred By, Reporter, Invoice Number, Date Billed, Date Received, Gross Amount, Amount to Reporter & Net to Principal.
Size: 13 X 10 inch. Price each.
Sku
Description
Qty
Price
Buy