Home>>Transcript Covers>>EZ View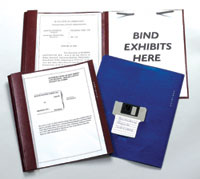 It's two covers in one!
For easy viewing and proofreading of transcript and exhibits, use our unique 3-panel cover.
Built-in disk holder eliminates lost ASCII disks and saves time
Holds up to 50 exhibits securely and accommodates index tabs.


Black Onyx
Professional Premium covers have a glossy, embossed, leathergrain finish. They're the perfect choice for the professional who is concerned with their image.





B


Black


B



Premium covers are a solid choice for a more traditional presentation. Available in a variety of classic colors with a beautifully embossed leatherette pattern.