Home>>Index Tabs>>Index Tabs - UNPUNCHED>>Index Tabs: UNPUNCHED - Title Tabs
Index Tabs: UNPUNCHED - Title Tabs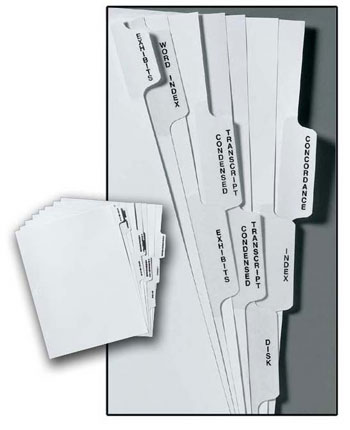 Title Tabs - UNPUNCHED
Title Index Tabs add organization and professionalism to your transcript.
Letter-size Side Tabs
Mylar coated tab for maximum durability
Bright white index stock is printed on one side in black ink
Packed 25 tabs per pack.
CONDENSED TRANSCRIPT, DISK, FLASH DRIVE, EXHIBITS, INDEX and WORD INDEX are also available bulk packed in boxes of 500.
Unpunched tabs.
For less than a full pack of 25 tabs, call 1-800-631-6989