Home>>Index Tabs>>Index Tabs - UNPUNCHED>>Index Tabs: UNPUNCHED - Alphabetical Side Index Tabs with Exhibit A - Z
Index Tabs: UNPUNCHED - Alphabetical Side Index Tabs with Exhibit A - Z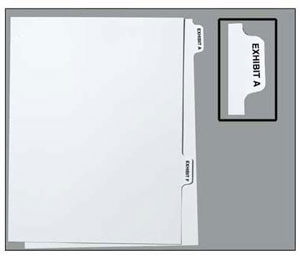 "Exhibit A - Exhibit Z" Individual Side Tabs UNPUNCHED
Organize your exhibits with professionally printed index tabs.
Any individual side tab from Exhibit A - Exhibit Z
Letter size 8-1/2 x 11 with 1/2 inch side tab
1/10th size tab
Bright, white index tab stock
Clear mylar coated tab
Printed on 1 sides in black ink
25 per pack. One letter per pack.
Unpunched.