Home>>Steno Machine Paper>>Steno Machine Pads - 12 pads/case
Steno Machine Paper: Steno Machine Pads - 12 pads/case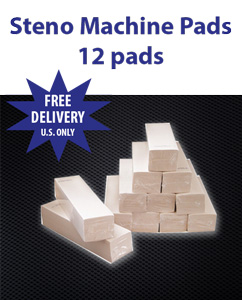 Our high-quality steno machine pads are now available in a convenient 12 pad case!

Price includes FREE STANDARD DELIVERY IN THE U.S.
Crisp, clean, perforated folds prevent your paper from fluffing or stacking

Special manufacturing process eliminates paper dust and static electricity

Each pad is individually shrink wrapped with perforation

Guaranteed performance tested
Packaged 12 pads per case, 300 folds per pad. Price per case.
Recycled Steno Machine Pads have been discontinued and are no longer available.