Home>>Transcript Covers>>Transcript Covers: Multipack
Transcript Covers: Multipack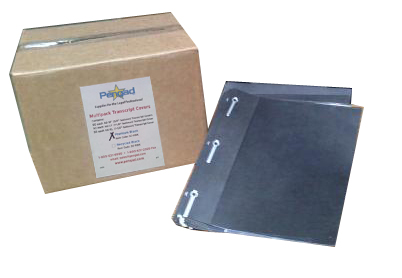 Don't need a large quantity of transcript covers? Try our Multipack!
Deliver your transcripts professionally bound in one of Pengad's distinctive transcript covers. The A6 cover is the most popular and is perfect for every application including the binding of condensed transcripts. The two-piece construction has a clear front, solid back, and built-in fasteners that make binding fast and easy. Three fastener sizes accommodate most transcripts.
Contains 150 Covers:
50 A6-SF 3/4" fasteners which hold up to 80 pages
50 A6-LF 1-1/8" fasteners which hold up to 150 pages
50 A6-XL 1-1/2" fasteners which hold up to 250 pages
Available in Premium Black or Recycled Black Linen only.